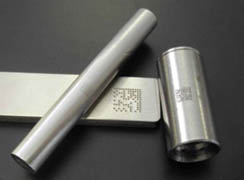 To read industrial datamatrix code or barcode is in some surroundings a demanding task. Often the codes are dirty, partially damaged or placed on difficult to reach places. Specific processes have different requirements, which our systems meet again and again. Sometimes codes must be read with very high speed or on rotating parts. In other cases many codes are to be captured in the same image.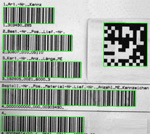 DVS offers code reading systems alternatively on intelligent cameras (vision sensors) or as PC based camera systems. This way the optimal solution can be found for each environment and all needs. Of course our systems can be configured in such a way that both barcodes and datamatrix codes are read at the same time. Moreover some other product features, like the sell by date or the shape of a product, can be controlled at the same time. That is what our systems are for: to handle difficult and multiple tasks. Of course DVS offers a user interface, which makes parameterizing the system easy even for those not familiar with vision systems. The integration of our systems in any customer network environment will meet no obstacle.
Industry emphasis
Electronics and medicine (code with up to 0.031 mm module size are read)
Packaging industry (up to 30 codes per second are read)
Automobitive industry/mechanical engineering (with difficult readable or partially damaged codes, even if local conditions affords larger reading distances, up to 4 meters)




Data sheet Datamatrix

Data sheet Barcode

Data sheet PICO smart vision

Data sheet Omni Smartcam V.1.3.