►Testing machine for mass parts
The diagonal sorter DS200 is designed both for surface inspections and for measuring large numbers of small cylindrical parts. However, other forms of geometry can also be tested.
The sorting machines are designed according to customer requirements with regard to infeed, test stations and ejection.
The ejection takes place in OK or NOK boxes with piece counting. The integration of a crate station or the connection to packaging machines are also possible.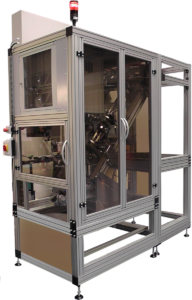 Automatic tester system features:
Up to 10 parts/s can be inspected automatically
Surface inspection and/or measurement
Quick conversion to similar products
Controlled tracking of parts from infeed to ejection
Level monitoring of all containers
Automatic system analysis and self-explanatory visualization of the system status

Flyer DS200 sorting machine